Marlin
Type
Three-Masted Schooner
Role
Mercantile
Hull Strength
8000
Max Armament
8 x Size 7 Cannon
Max Cargo
10
Speed
7

REQUIRES

Metal
55
Timber
340
Doubloons
26500
Level
6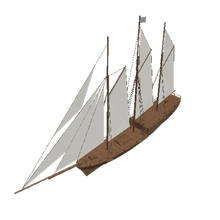 "The Marlin is the perfect ship for any captain that wants to take a lot of cargo someplace quickly." -Shipwright Summary
The Marlin is a level 6 ship with good armament, fair hull strength, decent cargo capacity, and decent movement and turn speeds. It sports the same broadside as a Shark, Serpent and Phoenix, but weaker in hull strength and being mercantile.
Although it can be used as a combat ship, keep in mind that because of it's slower speeds, it may be out maneuvered and outpaced by faster ships such as the Stiletto and Cutlass.
Trivia
Named after the popular sports fish with its fast speeds and long sword-like snout. Appropriate given its speed.
No relation to the Marlin (Fish)