This Article is Complete

Requires no more information except cannons storage.
"The Poseidon's all-iron hull makes it extremely tough. Press E to toggle steam engine on and off." - Shipwright Summary
The Poseidon is an end game vanity ironclad steamship. Boasting massive health, as well as two shielded turrets, capable of quick turns for easy cover fire.
The Poseidon was used in the Whitecrest and Inyola Conflict, revealed during the Crestfallen phase. The ship is also to be built by the Purshovian Federation.
Strategy and Tips
This ship should only be used sparingly due to nerfs. ts slow turning speed similar to the Neptune makes it susceptible to stern/bow locking, especially if one of the guns is disabled. The driver is partially protected from cannon fire.
The Poseidon HP has been nerfed from 24,000 to 18,000. The 42T Long Gun used to do more damage and fire farther, but now does the same as a regular 42-Pounder Long Gun.
The 42T Long Gun has been buffed to turn at a alarming rate, giving it excellent cover fire advantage.
The Poseidon's slow speed is partially made up for by its health and armor. However, it has been nerfed drastically for balance.
Like the Neptune, the Poseidon runs solely on coal, and lack any sails.. If the coal runs out, the Poseidon will be a sitting duck, especially if cannons are disabled.
It's recommend that the Poseidon should pair up with another ship. As the two turrets are equal damage to one Stiletto max broadside.
It should be noted that the turrets can be disabled. By hitting along where the parts are joined together, it has a chance to disable the turret gun, as well as breaking the turret's cover. Even able to expose the gunner!
The turret's cover offer protection from enemy fire.
The small space it takes to operate the turret makes it quite easy for boarders to hold in the gunners inside them. Making it an easy attack.
It's the second most expensive ship in the game, usually only endgame players can afford this vanity ship.
Trivia
The Poseidon is thought to be based off of the USS Keokuk, an ironclad from the American Civil War  
Named after the Greek god of the seas (and appropriately earthquakes and storms).  
Gallery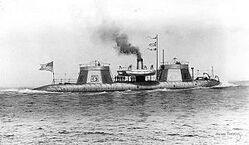 See Also